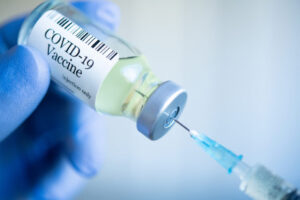 Booster doses of the Pfizer, Moderna and Johnson & Johnson COVID-19 vaccines are now available.
Booster doses of both the Pfizer and Moderna vaccines are available to certain groups who received two doses of the Pfizer or Moderna vaccine at least 6 months previously.
Eligible groups for Pfizer or Moderna include:
65 years and older
Age 18 and older who live in long-term care settings
Age 18 and older who have underlying medical conditions, increased risk of social inequities, or disabilities, including intellectual and developmental disabilities
Age 18 and older who live or work in high-risk settings.
Booster doses of the Johnson & Johnson vaccine are available to everyone 18 years and older who received the Johnson & Johnson vaccine at least 2 months previously.
Eligible individuals may choose which vaccine they receive as a booster dose. Some people may have a preference for the vaccine type that they originally received and others may prefer to get a different booster. The CDC's recommendations allow mix and match dosing for booster shots. More details are on the Oregon Health Authority web page.
ODDS, case management entities and providers have supported people with intellectual and developmental disabilities to have access to the COVID-19 vaccine since this effort started. Case management entities and providers should connect with individuals in services who are eligible for a booster dose and make sure they have access and support.
If you already requested support for an individual to receive a booster at their own home due to an inability to access a community event or retail pharmacy, there is no need to resubmit the data. ODDS has shared the information with the Oregon Health Authority (OHA) directly.
OHA has an online technical assistance form where providers, case management entities or individuals can request assistance getting access to a COVID-19 vaccine, including initial or booster doses. Specifically, the form should be used by providers of group homes and I/DD adult foster homes with residents and staff that need vaccine assistance, or people receiving in-home services who, for whatever reason, cannot leave their home for a vaccine. Case management entities are encouraged to fill the form out for people in services who may need vaccine access.
All COVID-19 vaccines are free and widely available through pharmacies, doctor's offices, federally qualified health centers, and vaccine clinics.
 Infographics:
Blog posts:
Sincerely,
Lilia Teninty
Director, Office of Developmental Disabilities Services